Tyddyn Sargent Coarse Fishery
We have 2 lakes on the site, both of which are well stocked with a range of coarse fish including carp (ghost, common, mirror), bream, tench, perch, roach and rudd. All the fish are in excellent condition and provide a pleasant day for the novice and more experienced angler alike.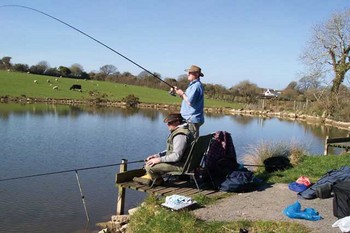 Lake 1 is a 1.75 acre lake with 14 swims. Fish can be taken on standard tactics throughout the year. Carp respond well to meat, corn, bolies(please see rules) and worm.
For those after a "mixed bag" , standard float or pole fished baits will ensure an entertaining days sport, with sweet corn and meat sure favorites. Favorite swims include the Premier peg, No 1, and "The Island Swim". However, do not ignore the margins, which in the past have produced some excelent catches
Lake 2 is a new .75 acre pool with 6 swims, each with its own unique characteristics, varying from marginal reed beds, lily pads and underwater features. The design and stocking make this a dream pool for the angler who enjoys fishing the pole or waggler
There is ample parking for fisherman and residents alike.
Toilet facilities are available.
Tyddyn Sargent Coarse Fishery Statistics: 24 click throughs, 5606 views since start of 2022
Water sports

in

Benllech

,

North Wales
Tariff

When?

7.30am to Dusk

Contact Details

Tyddyn Sargent Coarse Fishery

Manager/ Contact Person: Mr and Mrs Keith Twist

Tyddyn Sargent

Benllech

Isle of Anglesey

LL74 8NT

UK.

Our Website

News & Special Offers