Canolfan Ulcheldre Centre
The Ucheldre Centre is a community effort to provide those who live in and visit Holyhead, and nearby parts of north-west Wales, with a centre for arts events, exhibitions, and other community activities of an educational and cultural kind. No comparable multi-purpose facility exists elsewhere in the region, and in its distinctive mixture of artistic and community events the Ucheldre Centre may well be the only venue of its kind in Britain.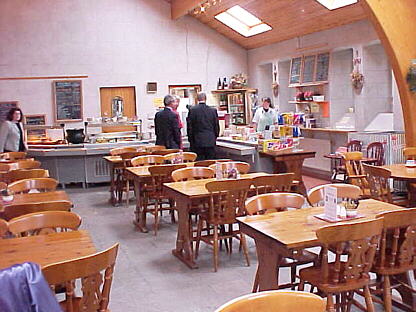 The heart of the Ucheldre Centre is a former Convent chapel belonging to a French Roman Catholic order of nuns, the sisters of the Bon Sauveur (Good Saviour). This became available following the demolition in 1988 of their Convent School - a castle-like structure which had dominated the skyline of Holyhead since the beginning of the century. The Convent had closed in 1982 (its history is told in the book, Convent, on sale from the Centre, price \'a35), and several sheltered housing units were then built in its grounds. The chapel would have been pulled down too, if the Ucheldre project had not been devised
The main hall of the Centre, with its imposing height and arched roof, was designed by Professor R M Butler, of Dublin. A leading architect of his day, responsible for many public buildings in Ireland, the building is in a modernized Romanesque style, with a tall square tower, making great use of green local stone. As a performance space, it seats up to 200. Extensions have been added at the back and sides, to provide room for a gallery, restaurant, and other facilities. The grounds have been landscaped, and contain an amphitheatre for theatrical events, and sculptures by local artists.
Canolfan Ulcheldre Centre Statistics: 32 click throughs, 5920 views since start of 2022
Attraction in
Holyhead
Isle of Anglesey
Entrance Charge

Opening Times

Canolfan Ulcheldre Centre

Millbank

Holyhead

Isle of Anglesey

LL65 1TE

UK

Our Website

News & Special Offers