Capel Garmon Neolithic Burial Chamber
The Capel Garmon Burial Chamber is a neolithic burial chamber of the 3rd millennium Capel Garmon Burial ChamberBC. It is located in a farmer's field near Betws y Coed high above the Conwy Valley and there are wonderful views of Snowdonia. It is a major archaeological site and it is well worth a visit if only for the fantastic views of the Snowdonia National Park, indeed I would have to describe it as a "tomb with a view".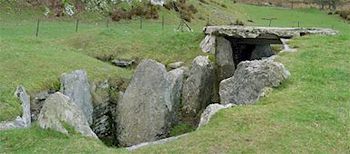 What appears to be the entrance is in fact one of the inner burial chambers and the real entrance is on the south side from where a passage led to a rectangular space which branched off to two circular burial chambers, the east and the west. The chamber has undergone considerable renovation but there are traces of the original stone walling in the lower courses of the eastern chamber. Look hard for a line of three very small drill marks that indicate the junction of new and old work. There is only one capstone remaining, but it is a fantastic piece of stone fourteen feet wide, and there are two false portals leading nowhere. These are believed to be for ceremonial purposes only.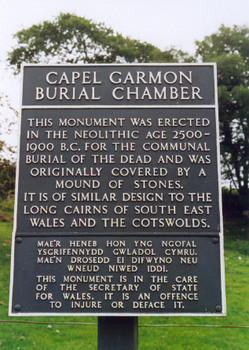 The present entrance was formed for use as a stable in the 19th Century and because of the disturbances not many artifacts were discovered during excavation. However some sherds of late Neolithic ( Beaker) pottery were found and some traces of bone were found in the passageway.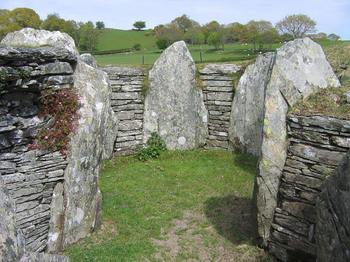 When viewing the chambers it is important to realise that it is a Cairn and would originally have been covered with a pile of stones. The outline of the cairn is now recorded by the lines of stones around the perimeter of the chamber.
Capel Garmon Neolithic Burial Chamber Statistics: 0 click throughs, 11417 views since start of 2022